---
Industry We Serve

Flexible Printing & Packaging Industry
Converting Industry
Paper Industry
Non-Woven Industry
Aluminum Foil Industry
Tarpaulins Industry
HDPE Woven Sacks Industry
Glass Industry
Jute Industry
Textile Industry
Yarn Industry
Fiber Industry
Carpet Industry
Artificial Leather Cloth / Vinyl
Leather Industry
Technical Textile Industry
Tyre-Cord Fabric Processing Industry
Plywood & Laminates Industry
Steel Industry
Sheet Metal Industry
Sugar Industry
Cement Industry
FMCG
Glass Industry
Wrinkle Removing Rolls
Bow Roll working with single and double acting. Types of bow roll available with high quality synthetic nitride sleeve rubber sleeve covered. Metal expander with hard chrome plated surface for high speed application. Vary bow expander roller, teflon sleeve expander roller for non-sticking application.
Metal Expander Roll with individual segment rotating type, single piece rotating type also with hard chrome surface. Carbon Steel Designed and angle adjusting worm
Expander rolls like Salt, Strip and Polyband expander roll for some web materials like pp/ld/ldpe. Suitable upto 120″ working width, Diameter 140 mm and working if the web width is more than 1000mm. Maximum Working Width 2500 mm
3 CURVE BAR EXPANDER ASSEMBLY run two web/fabrics having separate widths on this device. Featuring to remove wrinkles from Textile Processing machines like Stenter Machine, Dyeing, Calendars, Bleaching, Drying Ranges, Bow weft straightener and more
The unit consists of two numbers jointed axle bowed Rolls light duty or heavy duty as per application/fabric tension.
Scroll spreader roll, scroll roll mounted on foot mounting pedestals, scroll roll spreading system, reverse forward thread roller (aluminum / m.s., steel), parabolic camber scroll roller. LH-RH Grooving is applied to get maximum result.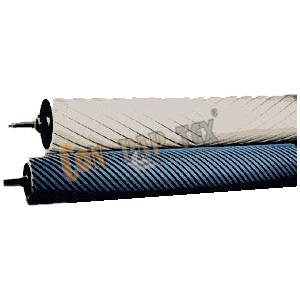 Rubber and diamond grooved spreader roller. Rubber Grooved Spreader Roller is ideal in delicate film application, such as Metaliser. It is having unique groove pattern, capable of handling delicate films with accurate wrinkle removing process