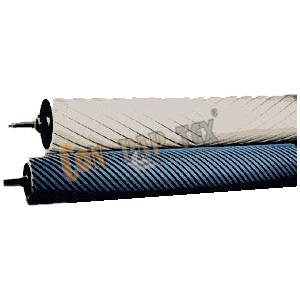 Grooved Rolls
Many types of Rubber Grooved Rolls are available as per specific requirement like Diamond Grooved Rolls, Helical Grooved Roll, Straight Grooved Roll, etc. For winder, Diamond Grooved Rubber Roll required, Helical and Spiral Grooved Rubber Rolls can be supplied as per application requirements.
Type of Grooved Roll available:
– Aluminum Slat Expander
– Grooved Roll with Wooden Slat
The diameter of Grooved Roll available:
– 6-, 8-, 12-
Length: up to 3000 mm
Rubber Grooved Spreader Roller is ideal in delicate film application, such as Metaliser, etc. A unique grooved has been done on rubber roller to enhance spreading effect without damaging the delicate film.