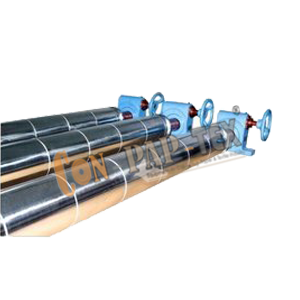 Bow Roll
Bow Rolls, 650 mm web width and web speed of less than 50 meters/min a Bow Roll of 90 mm is sufficient with a shaft diameter of 30 mm.
Sizes : Diameter up to 300 mm
Length : up to 8000 mm
Advantages: of our Bow Roll are:
Bow Rolls
Control Slack Edges
Remove wrinkles
Separate slit webs on winder
Eliminate baggy center
Try to even out lateral tension across the web width
'CONPAPTEX' make Expander Rollers, Bow Rolls having a very wide range of dimensions and suitable for an equally wide range of applications and web materials. They are supplied with mounting brackets, which could be either wall mounting or foot mounting. The Expander Rollers we offer consist of bowed shafts, sealed ball bearings, abrasion resistant sleeve and metal segments. These are widely used as wrinkle remover devices in various industries and are available with us in various dimensions. Further, these are also supplied with gear set and mounting brackets which can either be Foot Mounted or Wall Mounted.